CULTURAMA is the new destination for discoverers defending the best of Art, Architecture and Design in order to reinvent your contemporary lifestyle. As a bilingual webmagazine and audiovisual broadcaster with CULTURAMA STUDIO, CULTURAMA explores the trends of 21st century Art and Design, with its exclusive interviews, documentaries, articles, and mini-series. Hundreds of renowned artists have already participated in this adventure. CULTURAMA builds bridges between creators and executives, and as such, it becomes essential.
Ali Mahdavi | Organdy, PET, plexiglass | Plexiglas box: 65 x 45 x 70cm | 2015 | ANGÉLIQUE ©
I imagine

that all matter has evaporated,
leaving for only trace,
white envelopes, those of different realities.
So, plunging your visionary gaze, you see:
the top, the bottom,
the outside, the inside,
surface and depth,
both an appearance and its mystery.
      Angélique Lefèvre
Angélique
« White sounds like silence… ».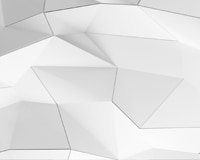 Homemade
A unique experience shared throughout the digital space…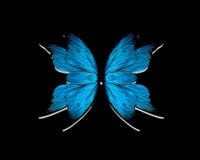 Explorer
The best of Art, Architecture and Design of the 21st century.
Just like black, white is not a real color. As a combination of all the primary colors, it has a strong symbolism that varies from one civilization to another; death and mourning in China and Japan, misfortune in India, purity and the sacred in the West, angels in Peru, etc. White tones not only question our visual perception but also raise the question of light, not to be confused with clarity as demonstrated by Soulages' outrenoir.
The same kind of questions guide Angélique, an extraordinary sculptor that CULTURAMA presented in number 39.
She disperses the colors into the winds, only to retain essence and transparency, in other words, white and mystery, that of organdy, a cotton muslin fabric. Questions then become ephemeral, a vanished breath, persistence of its envelope. The organdy is the key element that patiently constructs this invisible threshold between what was and what remains.
Beings of light, we leave diaphanous traces of our terrestrial passages, reminding us that beyond death, the aerial memory of the present might subsist.
Conversation with neon lights | 2014 | François Morellet©
Suprematist composition | 1916 | Kasimir Malevitch©
White sounds like a silence, no foremost beginning.
       Vassily Kandinsky
Eric de CULTURAMA: We have already talked (cf. CULTURAMA N°39) about the importance of white and transparency in your work: emptiness and fullness, the envelope without the body. Is the paradox of an immaterial presence at the center of your creation?
Angélique: The well-known dichotomies, material/immaterial, body/mind, surface/depth, entice me; another thing left is the balance between such extremes. I do not carve marble or stone, but fine cotton; I shape transparent sheets of polyethylene terephthalate. The verb to sculpt is almost unsuitable, I do not remove material from a block, but the result is indeed that of a volume which is so delicate that one can see through it, as if it were a vision, an afterimage. To show what is about to disappear is to show it in a more heightened way.
Eric: Does your artistic approach reflect your fascination with life and death? Where do you think it originates from?
Angélique: I deeply feel Malraux's words: "Art is an anti-fate". In other words, Art is what enables man to defy time and eventually access eternity. Eternity for him or for the world around. There is a wordplay that I find interesting: a snapshot of years. Make the moment last, extract it from the flow of time to save it. Art gives a particular density to life.
I like these words from Brigitte Fontaine: "They say I'm eccentric. It's quite the opposite. I am exocentric, that is to say perfectly centered". So there you have it, the Art life is a good life and even if some of my sculptures are austere (Vanity, Virus, CRS agent…), they all share joy for life.
Preparatory plasters in the studio | 2020 | ANGÉLIQUE, JML & CULTURAMA©
Eric: You turned to sculpture after studying textiles. Is this journey at the origin of your manufacturing process, which combines delicacy and surgical techniques?
Angélique: To tell the truth, my first loves are literature, song perhaps, words for sure. I did a bachelor's degree in humanities and would have liked to write, but I couldn't find the way. I have wandered ever since: second-hand dealer, stylist, pattern maker, seamstress. My hands ended up learning a skill and, perhaps, I needed this physical, manual grip, into which my mind, my creativity could slip… and my unconscious too. I have the impression that things have forced themselves onto me: sculpture, whiteness, transparency.
The delicacy and the surgical technique allow me to hide the gesture behind my creations. The technique must be forgotten, the stitches must not be seen. Like Leonardo da Vinci and sfumato, I would like the transitions to be made with great delicacy. Journalist Céline Catucci wrote about my work: "The sweetness of passing time".
Eric: Where does sewing start in your design process? Can you tell us about the Fiber Art Fever group?
Angélique: I start to sew on previously prepared cardboard or plaster templates. I assemble as long as possible on those structures, then I have to break free, to test the final hold of the organdy surface held by its seams alone; the emptiness within.
Fiber Art Fever is an association of artists who use fiber in the broad sense of the term, such as yarn, wool, textiles, hair, felt, materials compatible with techniques of weaving, embroidery, sewing, knitting, hooking. All the artistic disciplines are represented there: painting (with a needle), drawing (with thread), sculpting (the soft one), but also photography, installation… The artist Paty Vilo is at the initiative of this organization, as well as its president. We are currently around fifty mainly French artists, all moving towards an international platform. The site itself is currently undergoing transformation.
Overview of the studio with the bust of Ali Mahdavi | 2020 | ANGÉLIQUE, JML & CULTURAMA©
Eric: In your work, objects are as important as portraits, and characters can exist through accessories, like shoes for example. What do you want to express through the details of these objects?
Angélique: God is in the details. In any case, it is in the details that an era is told. Adornments, tattoos, clothes are personal choices from a range of social levels. I like the idea of archetypal figures: the hip-hop dancer, the rapper, the woman with piercings. They talk about our society, our present, the products of men. The classic theme of Still Life becomes Still Life at McDonald's, where we mainly see food wrappings.
The fetishists | Organdy, PET, plexiglass | Plexiglas box: 33 x 33 x 45cm | 2015 | ANGÉLIQUE©
As Marguerite Yourcenar puts it, "a glance at history, looking back to a past period (…), gives you perspectives on your period of time (…)". Had3sia, the pierced woman, is a contemporary version of Saint Sebastian, with his body eroticized in his torment. The CRS agent is a samurai, a statue of the commander, an archangel of the apocalypse, or even Achilles in his weakness. As for footwear, it is a clothing element that has grown to such an extent in fifty years that it is interesting to watch; the world of sport has fertilized basketball technology. Bondage and 3D design inspire Iris Van Herpen shoes. Maybe one day the shoe will have small wings. I shall then think of Hermes or Perseus.
Eric: Between Jean-Paul Gaultier, the woman with piercings and so many others, what are your favorite works? For what reasons?
Angélique: So far, I have not been confronted with emptiness, in the sense that all the sculptures I made, I had to do them, it was important to me. Jean-Paul Gaultier was a commission from the start, but a brilliant commission because he is an iconic fashion figure, and even more, the witness and irreplaceable actor of an era. Who decides one's looks? He puts skirts on men, blurring the notion of gender. He puts what goes under on top, so garter belts and bras end up over clothes. He transposes the popular into haute couture and makes from the sailor swimsuit an evening dress in striped feathers. I very much regret that I was not able to do the Karl Lagerfeld bust, the one I planned a long ago. There, the superimposed image would certainly have been that of the dandy.
Jean Paul Gaultier | Organdy, polymer resin, PET, plexiglass | Plexiglas box: 65 x 45 x 70cm | 2015 | ANGÉLIQUE©
Eric: Do you know what will be your next portraits?
Angélique: Yes, the next sculpture will be called Madame De II. It will be a portrait of a woman with her handbag (Delvaux), her shoes and some accessories. I have already made the Madame De I composition with a Hermès bag, Dior glasses, Tesla's keys and the Starbucks mug. After that, I have an idea for a Nefertiti sculpture that has been stuck in my mind for a long time. The Egyptian statue is a base for aesthetic inspiration in terms of body and head proportions. In place of the pharaonic headdress would be an imposing overlay of interwoven dreadlocks.
Eddy de Cergy | Organdy, polymer resin, plexiglass | Plexiglas box: 62 x 48 x 70cm | 2006 | ANGÉLIQUE©
Eric: Your exhibition plans have certainly been postponed and moved around. Can you give us an update on upcoming events?
Angélique: In September, I am being represented by the Maison Parisienne gallery during the The collector's walk exhibition at the showroom near the Madeleine in Paris. This gallery will also be present at the PAD 2020 from October 19th to 23rd.
Jordan Medusa | Organdy sculpture | 2020 | ANGÉLIQUE©
I also have an exhibition organized by Jean-Marie Oger; it will be held at 48 rue Chapon in Paris. The work on display is different from that of the organdy sculptures, which I have just described to you. This is an anthropomorphic series from industrial packaging entitled Prosôpons (cf. CULTURAMA N°39).
CULTURAMA HOMEMADE was born on April 1, 2020, during the lockdown spring, long before Netflix's namesake show. The means of production are limited, and collaborators can't come close to each other. But the desire to share our passion for Art and to prevail over restrictions on freedom is still here, fueling us.
CULTURAMA, the new destination for discoverers, accompanies you in the exploration of 21st century Art and Design. To achieve this, CULTURAMA STUDIO produces exclusive interviews, reports, and mini-series.
Barbara Marshall
Grigoriy Manucharian
José Man Lius
Contact us :
ericdeculturama@gmail.com
We wish to thank the volunteer contributors who cooperated in the creation of this webmagazine.
© Culturama.studio